Thank you for taking time to stop by. I appreciate your interest in my work as an author, columnist, speaker, and as a person passionate about the preservation of our nation's heritage barns. It is a joy to receive your emails, calls, and book orders.
Love
Jan
The Barn Lady
---
---
As I speak to groups I find that many people do not realize the treasure that a heritage, timber-frame barn really is and why such a barn is worth saving. If you have, or can influence someone to keep a "real" barn in good repair, please make that commitment. When these barns are gone they are gone forever. Deep regret cannot bring them back.
Love a barn? Save a barn!
---
"You have a wonderful vocabulary and a gentle but learned and inviting voice. You made everyone feel comfortable and invited them to participate in the talk."
M.M. Battle Creek, November 2015
"I was not sure you could surpass your first visit to our group – keep up the good work. You enlighten so many."
J.S. Albion, November 2015
"I could listen to you talk about barns for hours and never lose interest. I have learned so much!"
J.S. Albion, November 2015
"I just love your humor!"
Retired teacher, Lansing, November 2015
---
Books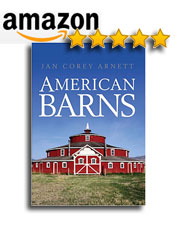 Read More Here
American Barns $9.95
($10.55 with tax)
Your price $10.
Fewer than 200 left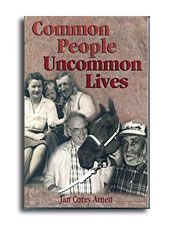 Read more here.
Common People $14.95
Your price $10
Sold Out
| | | |
| --- | --- | --- |
| One book: | $10 | +$3.75 shipping |
| Two Books: | $20 | +$5 shipping |
Free gift-wrapping. (If books are to be signed, send requested inscription.)
Make checks payable to Jan Corey Arnett.
Send to 2444 Halbert Road, Battle Creek, MI, 49017.