Jan holds a B.A. in English from Albion College; an M.A. from Nazareth College, Kalamazoo; and has studied holistic health through Western Michigan University, Kalamazoo and program evaluation at the University of Illinois-Chicago.
To learn what others have said about Jan's writing, or to add your thoughts,
click here.
Farm Girl
My passion for heritage barns and farm life, go back to having grown up on a dairy farm in Michigan's Upper Peninsula where my parents had award-winning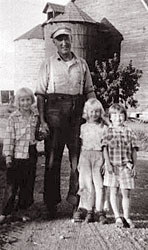 Holsteins. The farm had been in Dad's family since the 1880s and had Dad's health held out it would have stayed that way. The barn was built by my grandfather. Dad always said that the hardest part about leaving the farm was leaving the barn. After we sold the farm in 1969, the herd was sold and eventually, the neglected house, lonely barn, and 40 acres were split from the tilled land and woods. A couple bought the parcel and remodeled the house but to my horror, in the 1990s they destroyed the barn with its hand-hewn beams and pegged construction. Just like that. Gone. A 1960s addition to the barn was turned into a second residence.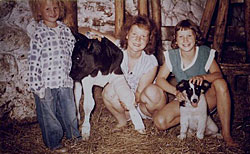 Dad passed away in 1995 without knowing the barn had been destroyed. It would have grieved him to know what happened to Coralan Farm. When I return to the U.P. now I am no longer drawn to the farmstead because the changes have made it someone else's home and there comes a time to move on. I continue encouraging others to save their barns and share their stories.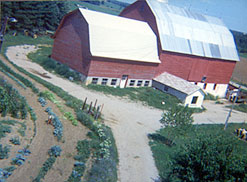 The Barns on Coralan Farm - 1968
"Thanks for Asking"
Often when I speak to groups, someone wants to know what I hope will happen in the next few years to preserve America's barns. Borrowing on the words famously attributed to the great Martin Luther King Jr., I have a dream… that one day (soon, because barns are falling every day) there will be a national endowment for the preservation of America's barns. From this endowment, funds can be given to help caring people in groups in every state undertake projects to identify and save "signature barns" of special importance to local and regional history; to document barn and farm/ranch architecture and life stories; to host barn-related events that draw people together in the spirit of community; to introduce children who may never have stepped foot in a real barn to the wonder of a barn; to help agri-business and tourism groups create barn tours and written guides and barn quilt trails; to help those who want to save barns save them when they lack the resources to do it alone; and to support the feasibility studies and rehabilitation work that give new life to old barns in a multitude of ways.